Spot the Scam: COVID-19 Relief, Illinois Government, Venmo, Amazon SMS, and Netflix Email Scams
The Trend Micro Check Team found 4 SMS scams and 1 phishing email this week. Here is a preview of the viral scams that can help you in checking your inboxes.
COVID-19 Relief Phishing Text Messages
COVID-19 relief phishing page.
Illinois Phishing Text Messages
Illinois unemployment insurance claim phishing text message. Source: Reddit
Illinois office secretary of state phishing text message. Source: Reddit
Fake Illinois Department of Employment Security (IDES) website. Source: Reddit
Venmo Phishing Text Messages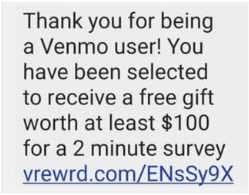 Venmo phishing text message.
Amazon Survey Scam
Amazon survey scam.
Amazon survey scam.
Netflix "Account Suspended" Phishing Email
Netflix phishing email. Source: Reddit
Learn tips to avoid these viral scams, read the full article, and protect yourself with Trend Micro Check. Try the free app now.
Let us know in the comment box if you encounter these scams?