mon anti virus ne trouve pas le virus Commondatastorage Googleapis qlq un à la solution ???
Salut 
tai_tai65
tai_tai65,
Je comprends que votre langue maternelle est le français. Je vais répondre en utilisant le français mais veuillez prendre note que je n'utilise qu'un traducteur.
Nous nous excusons pour les désagréments que vous avez rencontrés et je comprends à quel point cela est frustrant de votre part. Laissez-moi vous aider avec ceci. Pour supprimer ce malware, essayez de suivre les instructions ci-dessous:
1. Téléchargez et exécutez le Toolkit Anti-Threat.    
    •
Anti-Threat Toolkit 32 bits 
    •
Anti-Threat Toolkit 64 bits
 2. Désinstallez les logiciels suspects.    
    • Maintenez la touche Start enfoncée et appuyez sur R. Tapez appwiz.cpl et appuyez sur Entrée.    
    • Cliquez avec le bouton droit sur le logiciel que vous souhaitez supprimer et choisissez désinstaller.
 3. Tapez msconfig dans le champ de recherche et appuyez sur Entrée. Une fenêtre apparaîtra: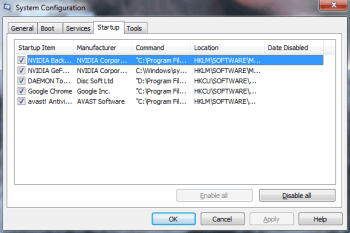 • Décochez les entrées qui ont "Inconnu" en tant que fabricant ou qui semblent suspectes.
 Si les solutions ci-dessus ne fonctionnent pas, veuillez nous le faire savoir afin que nous puissions vous aider davantage.J'espère que ça aide et bonne chance!
English Version:
1. Download and run the Anti-Threat Toolkit.
    •
Anti-Threat Toolkit 32 bit
    •
Anti-Threat Toolkit 64 bit
2. Uninstall suspicious software.
    •Hold together the Start Key and R. Type appwiz.cpl and hit enter.
    •Right click the software that you want to remove and choose uninstall.
3. Type msconfig in the search field and hit enter. A window will pop-up: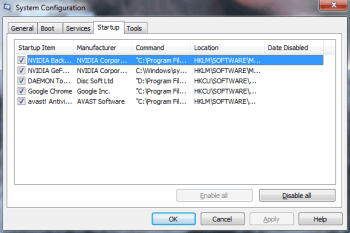 •Uncheck entries that have "Unknown" as Manufacturer or otherwise look suspicious.
If the above solutions doesn't work, please let us know so that we can help you further.
I hope this helps and good luck!
This conversation is no longer open for comments or replies.
Related Categories
4795 Conversations
748 Followers